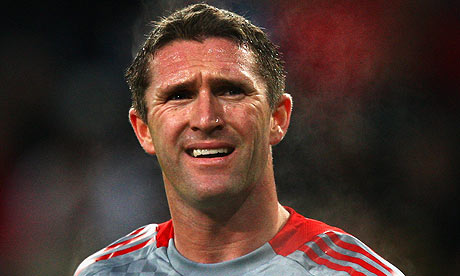 Boardroom power struggle? Balderdash. Benitez wanted Keane in the summer, as much as he's trying to distance himself from the signing this past month. Here's Jumpthefence's take on the most horrible six months and another Irish footballer who couldn't quite make it at a top club.
1 THE WRONG SIGNING IN THE FIRST PLACE
An argument we made right away. Robbie Keane = livewire, headless (at times), free spirit,non-clinical forward who needs a run of games to find form,tends to go on long runs without goals and works best running in behind defences. Benitez = tactically controlling, distrusting of flair,with penchant for rotating forwards who spoke of using Keane as creative influence off Torres. Liverpool = club who needed clinical finisher or consistent creator of chances against teams who put ten men behind ball. Make your own mind up on chances of success.
2 LACK OF GOALS/ FORM FROM BEGINNING
Look, bare stats: 25 games - 7 goals ain't a hot streak but ain't awful either. Problem was the amount of sitters Keane passed up - Bolton, Fulham,Preston spring to mind. Problem was the amount of games Keane struggled to create anything resembling a chance for himself or others - especially those draws at home. Problem was by the end other players seemed to have lost a little faith in him. His last start v Everton in the league, Keane touched the ball nine times. Just not good enough.
3 WRONG JOB DESCRIPTION
Much bluster poured from "experts" in the summer about Keane being a perfect link man for Torres to work off. Rubbish! Can you ever remember Keane creating a goal playing for Ireland? Keane does his best work playing off the shoulder of defenders; something he never got the chance to do against teams who sat deep at Anfield. Ask him to play up front on his own and you'll never see the best from him. Ask him to play deep off Torres and he'll flap about but create nothing.
4 RAFA
Oh yes, Rafa must take blame, lots of it. For buying the wrong player in the first place. For playing him in positions that wouldn't work. For niggling away at a confidence player till he had nothing left. For benching him just as he showed some form and goal threat. For whipping him off EVERY single time he failed to perform rather than showing some faith. For not getting anything like the potential from another attacker.
5 MENTALITY/ PRESSURE
Some players are big-club players, perhaps Robbie Keane just isn't. Of course there's a difference togging out each week for Liverpool where every game is dissected and every point vital as opposed to say, Spurs, where most people just see highlights reels every weekend and poor runs of form are quickly forgotten or don't mean as much. Benitez is said to have been dismayed by the shaking of the head every time Keane saw his number come up, the mutterings and the increasingly frustrated rants at teammates when he didn't receive passes. Fact is that Keane didn't look quite at home at Liverpool, and there have to be questions levelled at the player as to why that was.