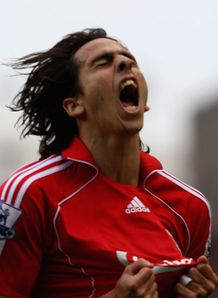 If there's been any lesson in this week's Champions League ties, and Jumpthefence knows it's sometimes rash to rush judgement on the evidence of one round of games (a few silly mistakes in a fortnight and we'll be watching a what's-wrong-with-English-football discussion), it's that the Premier League really is head and shoulders above everything else right now. And perhaps more relevant, the story is one of the mediocrity of some of the great clubs around Europe, something we'll get back to another time.
For now, Liverpool and Chelsea won't mind and added themselves to United and Arsenal from the previous night to the list of jobs well done. All four English sides found themselves somewhere between dominant and comfortable this week against some of the top sides in European football, which can't be a bad week's work. Last night, Liverpool did what Liverpool do (just like predicted here yesterday). They strangled the life out of Real Madrid at the Bernabeu, frustrated them with workrate, solidity and men behind the ball, and pressed them into mistake after mistake. They got the bonus of nicking a goal from Yossi Benayoun as well, and even though Liverpool never needed to play particularly well or strung too much possession together, Real were horribly lacking in any sort of fluency, creativity or ideas. They were shockingly average in truth, throughout the field, and Arjen Robben was the only one who fleetingly looked like producing some magic.
Liverpool, as the lads on RTE said afterwards, gave a typical Pool performance, and will play just the same as that against Middlesbrough and Sunderland next week in the league. The problem for them is that when they need some ambition and are given the ball by worse sides, they simply don't know what to do with all the possession. Dunphy (and didn't he look proud as punch at apparently calling it right on Real, when any decent football head knows how average the Spanish side are these days) made a decent point about Benitez being a system manager rather than having belief in the players, but then ruined it by comparing him to Trapattoni. The difference here is that Trap is limited with the players at his disposal and so has found a system to get the best results with an average group. Benitez has gone out and bought all these players he's working with. Anyway, Pool should go through now, though they could get nervy at Anfield if Real keep it tight and put men behind the ball.
Chelsea didn't have it easy against Juve, but there are signs that the players are playing for Hiddink (though the same happened early season with Scolari). Drogba looks interested again and is always a handful if so. Lampard is a pro anyway. Juve had their dangers in possession though and nearly grabbed a couple of goals though Del Piero and Nedved - Trezeguet snatched at a late chance as well. This isn't over, Juve are decent at home if they let off the shackles, but you'd wonder if they've got the belief to really go at Chelsea.