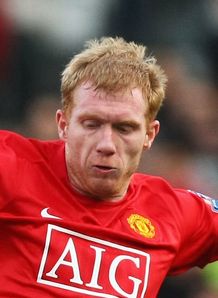 Some pertinent questions. Is this the beginning of the end for the title race? Can Liverpool haul in a five-point, likely to be eight-point before they play again, lead? Have United ever looked as comfortable? Will they ever concede a goal again? Is this the strongest United group of all time? How good was Paul Scholes last night? Some attempted answers. Probably. Unlikely. No. Maybe not. Squad-wise, yes. Very, very, very, awesome.
Fulham have made life awkward for Arsenal, Chelsea and Liverpool this season but last night they were swept away pretty imperiously by a United who're just starting to click. Berbatov flitted into life and gives a wonderful fulcrum to attacks. Tevez scuttled around to effect. As
Jonathan Wilson pointed out
in the Guardian last week, the main reason they're so hard to score against is that they keep possession so well, their defence rarely comes under any sustained pressure. And Paul Scholes is the very personification of that philosophy.
There are murmerings this season that Scholes is less effective now than in the past, that he's vulnerable in a two-man midfield against younger, stronger legs, that he's not stamping himself on games like the Scholes of old, that he's unable for the bigger games (he was anonymous at both Anfield and Stamford Bridge earlier this season). Well last night he turned back the clocks. From the stunningly executed volley that may have needed a blip from the keeper but deserved a goal nonetheless to the way he shaped the tempo and rhythm of United's attacking with intelligence and awareness of space that no other player in the squad possesses, Scholes was sensational.
He strolled around midfield, always available for ball. He raked countless passes crossfield for Ronaldo, Park, O'Shea and Evra to attack the wings. He displayed the usual variety of passes, keeping things short and simple but knowing that the 50-yard ball can be devastating when perfect. Check out this
Guardian chalkboard
and see the stats - 64 passes, 62 successful. But it's the variety and the fact that so many are forward, probing, attacking passes that leaps out. Scholes was always looking to create openings. On last night's form he's in a class of his own. Whether he's the legs to recreate that against the Pools, Inters, of this world we'll find out.
Check out
Martin Samuel's reasoning on the title race
in the Daily Mail which of course makes complete sense. Simply put, United are top because of the better team/ squad, not due to any failings/ rants from Rafa.
Note - it's great to see John O'Shea continue his run of good form in the United team. We'd worried he was likely to be shunted back to the bench on Evra's return but Ferguson just moved him across to right-back where he was solid and actually far more creative going forward than he's been at left-back recently. He's got his critics, myself included, but he's been good recently. Darron Gibson is getting more gametime now too, which can only be encouraging for his career.