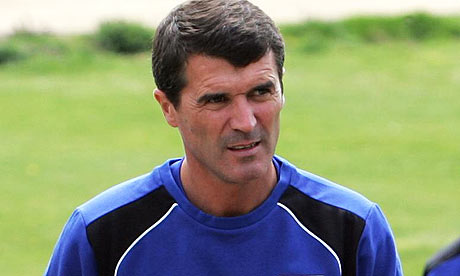 He's back then, and rightly or wrongly, whether you care or don't care, whether he's a hero or a villain, it can be only a good thing. After months away from the game, Roy Keane made a typically unpredictable way back into management with Ipswich. It might seem an odd match, but the more you analyse it, the low-key, traditional club may just be the perfect place for Keane to learn the management game, away from the manic Irish hype of Sunderland.
Jumpthefence has
blogged on Keane
when he departed Sunderland and much of what was said then remains the case. If the boy Roy can adapt - and remember, this was a player who went from an all-action, box-to-box attacking midfielder to a sitting, more defensive type without losing any of his edge or influence - there's no reason why he can't make a proper go of things. As we said back in December, we can be much too quick to write off managers in these parts without expecting there to be a learning period, a time to make mistakes.
He'll hardly buy so many players again, hardly stockpile a hive of average discontented squad players capable of souring the atmosphere. He'll need to be a bit more understanding of the current generations whims to try to get the most from them. There were times where it looked to be coming together at Sunderland, moments and games where flashes of excellence and a team who knew what they were about shone through. Keane will need to figure out how to get a group of player to buy into what he's about for a few seasons.
Jumpthefence, for various reasons, found himself in Derby for Keane's first game in charge of Sunderland a few years back. Every eye in the stadium was glued to Keane. Sunderland scored; everyone strained to get the reaction. In the post-match press conference, Billy Davies came in first but, kinda embarrassingly, nobody wanted to ask him a question so he left having answered two token enquiries. Keane came in, sat down, glared at everyone and still kept everyone totally rapt while he spoke. He's got that presence, that box-office quality that draws people in. We'll find out in the next few seasons if he's got the managerial ability to back that up.
Love him, hate him, you can't deny it'll be interesting. Get used to Keane being everywhere again.